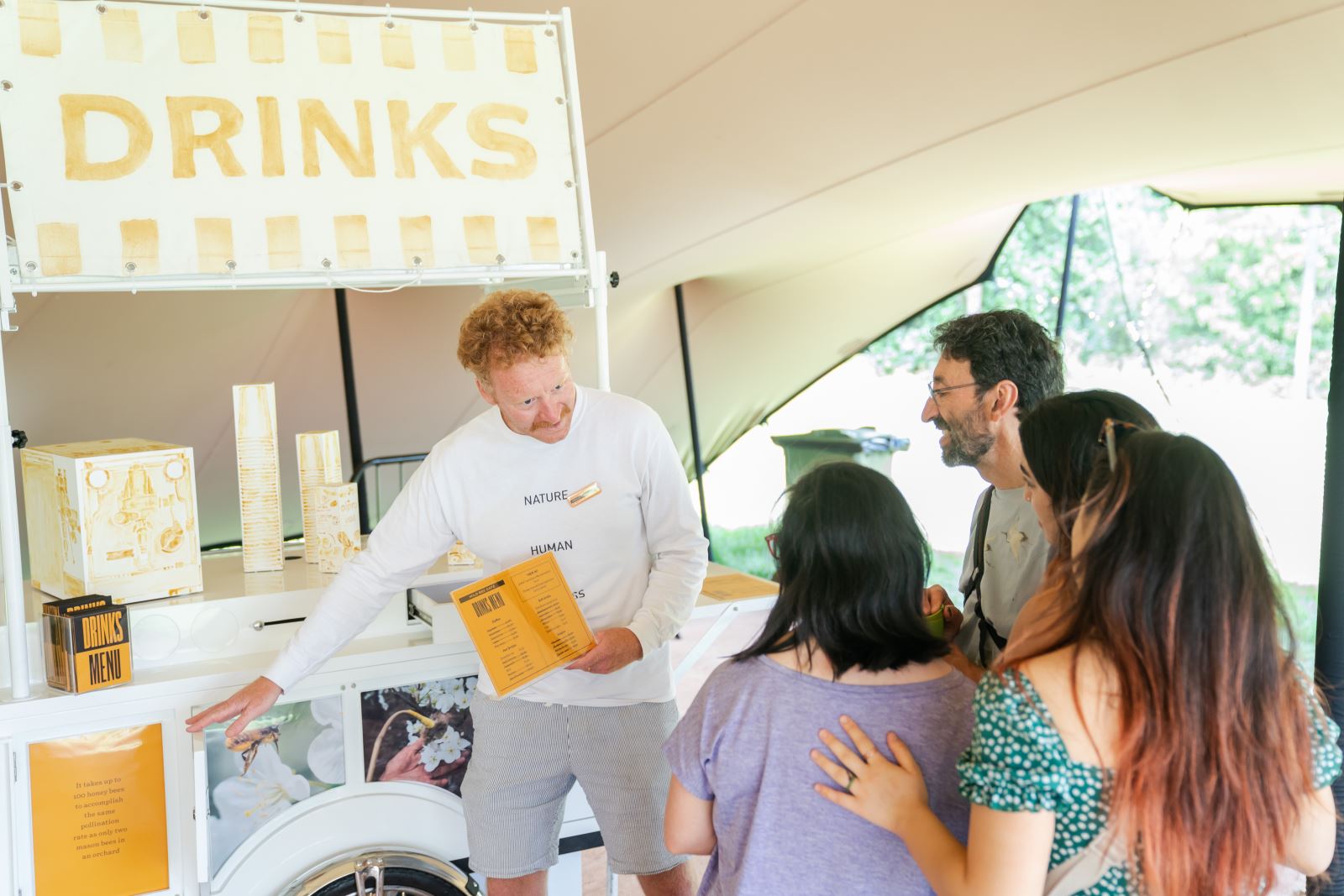 It's 2031 and there has been a catastrophic collapse of wild pollinating insects across the world. The collapse had been predicted by scientists, but the speed caught everyone out...
Wild Bee Café is a mobile drinks kiosk which plays out this scenario. Passers-by are lured in, only to be met with the disappointing reality of a menu greatly compromised with the loss of many core ingredients, designed to broaden the understanding of dramatic pollinator decline.
In the week leading up to Saltaire Arts Trail (27 -29 May), the Wild Bee Café will tour Shipley, encountering people as they commute to work, play in the park or go shopping. Starting at Shipley College, artist and cocreator Freddie Yauner will work with students on Tuesday, before moving on to visit locations in Shipley and Saltaire, running creative activities that reinforce the importance and extraordinary diversity of wild and native bees.
Artist and co-creator Freddie Yauner said "I'm so excited to bring The Wild Bee Cafe to Shipley, I can't wait to meet local people and see their reaction to the stories the artwork tells. It's great to have the opportunity to raise awareness of the plight of wild and native bees as part of Saltaire Arts Trail. I'm buzzing about it!" Originally commissioned by Royal Botanic Gardens Kew in 2022, the Wild Bee Café will also be at Salts Mill over the Arts Trail weekend (27 – 29 May) accompanying an exhibition of Pollen Paintings by Freddie Yauner, featuring live painting exploring biodiversity, farming and pollinators.
SCHEDULE:
Tuesday 23 May
11am – 3pm Victoria Hall, Saltaire, BD18 3JS
Wednesday 24 May
10am – 1pm NEET Northcliffe Park, Cliffe Gardens, Shipley BD18 3DD
3pm – 6pm Shipley Railway Station, Station Road, Shipley BD18 2JL
Thursday 25 May
10am – 12pm ASDA, Manor Lane, Shipley BD18 3RY
1pm – 3pm Shipley Market Square, Shipley BD18 3QB
Friday 26 May
10am – 12pm Roberts Park, Saltaire, BD17 7LU
1pm – 3pm Hirst Lock, Hirst Lane, BD18 4NQ

Saltaire Arts Trail runs over the Spring Bank Holiday weekend from Saturday 27 – Monday 29 May, bringing over 140 of the UK's finest artists, makers and designers to the unique spaces of Saltaire and Shipley. As well as the Open Village (showing art across 20 locations), and a three-day Makers Fair at Victoria Hall, there is a busy programme of exhibitions and a programme of free artist-led workshops including printing, weaving, drawing and crafts.

Information on the full programme can be found at saltaireinspired.org.uk and trail guides are available to
buy for £3 at various outlets in Saltaire and online, as well as throughout the Arts Trail weekend.

Related
0 Comments