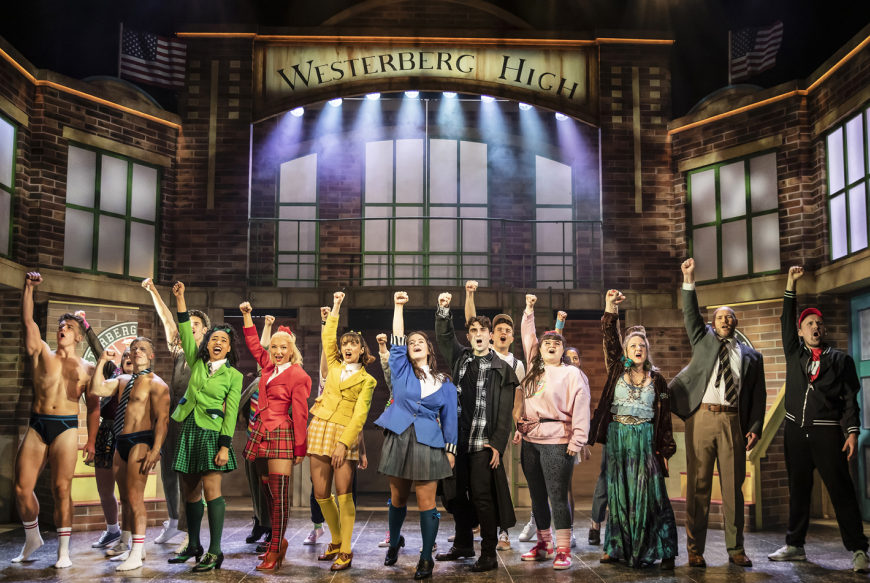 Image by Pamela Raith
Following two smash hit West End seasons, a record-breaking run at The Other Palace and winning the WhatsOnStage award for BEST NEW MUSICAL, Heathers the Musical is coming to the Alhambra Theatre, Bradford as part of a new national tour.
Produced by Bill Kenwright and Paul Taylor-Mills, this high octane, black comedy, rock musical is based on one of the greatest cult teen films of all-time starring Winona Ryder and Christian Slater. It tells the story of Westerberg High's Veronica Sawyer who is just another nobody dreaming of a better day. But when she joins the beautiful and impossibly cruel Heathers and her dreams of popularity may finally come true, mysterious teen rebel JD teaches her that it might kill to be a nobody, but it is murder being a somebody.
Making it beautiful in blue, Jenna Innes (Les Miserables) takes on the role of angst-ridden teen, Veronica Sawyer, and returning to the role of Jason 'J.D' Dean is Jacob Fowler (Rodgers and Hammerstein's Cinderella).
Verity Thompson (Cinderella) will take on the role of Heather Chandler, Elise Zavou (Fantastically Great Women Who Changed the World) as Heather Duke and Billie Bowman (Heathers – The Other Palace) as Heather McNamara. The Westerberg tour class of 2023 is completed by Kingsley Morton (The Addams Family) as Martha Dunnstock, Alex Woodward (Mamma Mia!) as Kurt Kelly, Morgan Jackson (Mamma Mia!) as Ram Sweeney, Katie Paine (We Will Rock You) as Ms. Fleming, Jay Bryce (Motown: The Musical) as Kurt's Dad/Big-Bud Dean/Principal, Conor McFarlane (Once) as Ram's Dad/Veronica's Dad/Coach Ripper with Tom Dickerson (The Book of Mormon) as beleaguered Geek, Lizzie Emery (Rent) as Midwestern Surfer Punk, Eliza Bowden (professional debut) as New Wave Party Girl, Eleanor Walsh (The Rocky Horror Show) as Drama Club Drama Queen, Summer Priest (Get Up Stand Up) as Young Republicanette, Maeve Byrne (Grease) as Stoner Chick, Liam Dean (Gypsy) as Hipster Dork and Markus Sodergren (Roles We'll Never Play) as Preppy Stud.
The award-winning writing team, Laurence O'Keefe and Kevin Murphy's hit musical adaptation has enjoyed successful runs in Los Angeles and New York, and its European premiere saw it become the highest grossing show at The Other Palace, having sold over 20,000 tickets across the run and selling out prior to its opening gala performance. It had a similar success on transferring to the Theatre Royal Haymarket. The smash-hit return engagement at The Other Palace under Bill Kenwright continues to excite and delight audiences.
Heathers the Musical is directed by acclaimed American screen and stage director Andy Fickman, with choreography by Thriller Live's Gary Lloyd, design by David Shields, lighting by Ben Cracknell, musical direction by Will Joy and sound by Dan Samson.
---
Alhambra Theatre, Bradford
Tuesday 18 – Saturday 22 July 2023
Signed performance: Thursday 20 July 2023 – 7.30pm
Captioned performance: Friday 21 July 2023 – 7.30pm
Audio Described performance: Saturday 22 July 2023 – 2.30pm
Tickets £47 - £19.50
Call the Box Office on 01274 432000 or visit bradford-theatres.co.uk
All prices shown include booking fees but are subject to postage charge if applicable. Bradford Theatres' usual terms and conditions apply.
Related
0 Comments