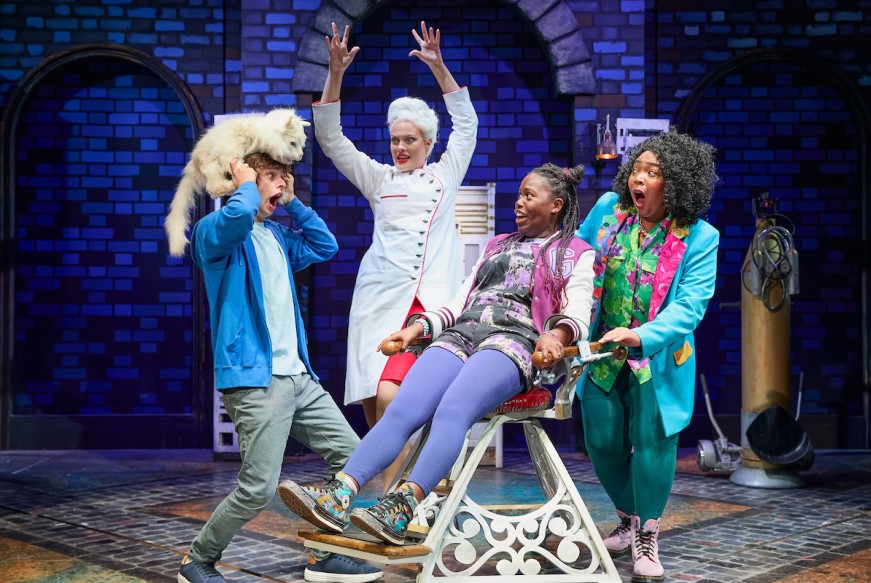 Image by Mark Douet
The bestselling children's author David Walliams and the award-winning Birmingham Stage Company have teamed up for a brand-new production of Demon Dentist. This is their latest collaboration after Gangsta Granny and Billionaire Boy, both of which received Olivier award nominations.
Join Alfie and Gabz on this fabulous adventure, as they investigate the strange events happening in their home town! Children are leaving their teeth for the tooth fairy and waking up to find odd things under their pillows! Alfie and Gabz are determined to get to the bottom of the mystery - but no-one could have dreamt what they'll discover, when they come face to face with the demon dentist herself in this hilarious and thrilling story!
David Walliams said: "What a brilliant show! It's hilarious jaw-dropping fun!"
David Walliams is one of Britain's best-loved comedians. Little Britain, his creation with Matt Lucas, won numerous international awards including three BAFTAs, and now plays in over 100 countries. It was followed by one of the most popular comedies of all time, Come Fly With Me. David has also been a judge on the ITV talent show Britain's Got Talent since 2012. A best-selling children's author, David began writing books in 2008. His novels have been translated into 55 languages, selling 50 million copies worldwide.
Neal Foster is the adapter and director of Demon Dentist. He is the Actor/Manager of The Birmingham Stage Company, which celebrated its 30th anniversary last year. Since its foundation in 1992 they have staged over one hundred productions and the company has become one of the world's leading producers of theatre for children and their families. Productions include Horrible Histories Live on Stage for seventeen years in the UK, Dubai, Abu Dhabi, Qatar, Bahrain, Hong Kong, Singapore, New Zealand and Australia.
Neal has written and directed all of the most recent Horrible Histories shows including the Barmy Britain series seen in the West End, across the UK, and abroad. Demon Dentist is his fourth David Walliams stage show after Gangsta Granny, Awful Auntie and Billionaire Boy. He also directed the world premiere of Tom Gates which he adapted alongside the author of the books, Liz Pichon.
Demon Dentist is adapted and directed by Neal Foster, designed by Jackie Trousdale, lighting by Jason Taylor, sound by Nick Sagar and music by Jak Poore.
---
Alhambra Theatre, Bradford
Thursday 8 – Sunday 11 June
Evenings: Thu – Sat 7pm
Matinées: Thu 1.30pm, Fri 10.30am, Sat & Sun 2.30pm
Signed performance: Thu 8 June, 1.30pm
*Tickets £22 - £20 Concession, Groups 12+, Schools and Family offers available.
Call the Box Office on 01274 432000 or visit bradford-theatres.co.uk
*All prices shown include booking fees but are subject to postage charge if applicable. Bradford Theatres' usual terms and conditions apply.
Related
0 Comments