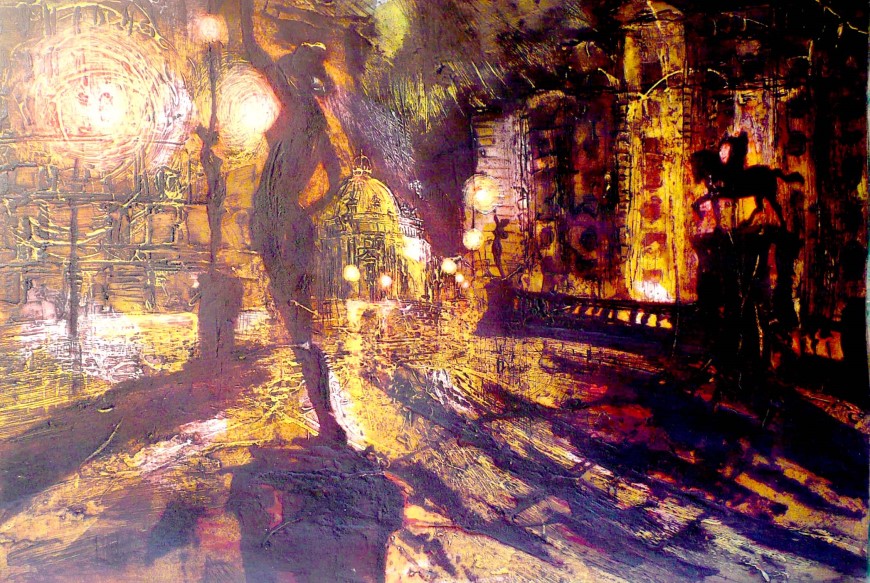 A new exhibition at the Bingley Gallery showcases the work of printmakers from our region. Artist's prints are a hugely important branch of the fine art world, though many people are confused between the hand-worked forms and the mass-produced prints which pass through a photographic process. The latter may be produced in carefully controlled limited numbers, but they lack the individuality, variability and scarcity of the traditional techniques that make them so appealing.
Many great artists including Durer, Rembrandt, Hokusai, Matisse, Picasso and Warhol produced prints, not merely as a means of increasing output, but because it provided a different expression of their creativity.
A multitude of processes add to the final effect: Sometimes bold blocks of colour, sometimes subtleties of tone through the use of acid etching or the fine, scratched in detail of needlepoint etching. As one of the exhibitors, Paul Hudson said of his work "Screen prints are a delight in the way one can manipulate screen images and colour from one print to another if so wished. They are to me the bolder statements which shout out from the wall, whereas etchings whisper their tales and you may need to listen a little more carefully".
On display in Bingley are eight artists with a range of techniques. The method many people are most familiar with is lino-cutting – a development of wood-block printing. Typically, sharp tools are used to cut away the surface where no is ink is required to be transferred, with the design a reflection of the desired output. This is the basis of a work by Baldev Mehta, depicting the Law Russell building in Little Germany. He has worked on a massive scale at 1.5m tall and created a work of considerable impact – no mean feat given that he undertook it whilst still a student at Bradford College. Kate Rawnsley's sumptuously colourful works require the block to be recut and over-printed each time with a new colour. In a further development, many of Alison Deegan's lino prints require the lino to be attacked with caustic soda, which creates 'texture' in the final image.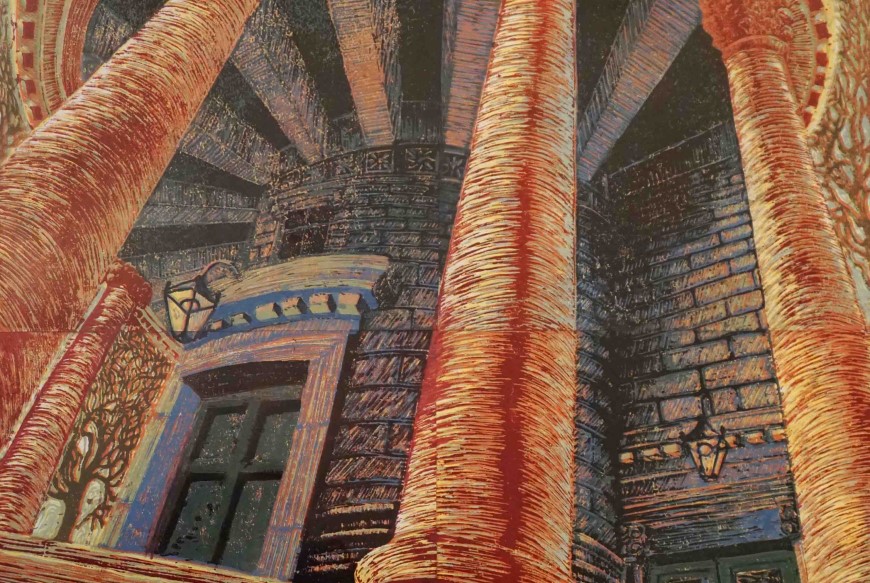 Intaglio printing, encompasses a range of methods of making incisions into a plate which take up the ink and can then be transferred to the paper. A direct way of achieving the incisions is with a sharp too. This 'drypoint', as seen in Mike Moor's work. Alternatively, a layer of chemically resistant material can be applied to the plate. Scraping this away with a needle-like tool allows acid (or copper sulphate on zinc) to attack the metal below and leave relatively bold lines to hold ink which can be transferred to the paper. For more subtle results, the resistant film is lightly sprayed onto the surface of the plate and the discontinuous layer allows partial penetration of the acid and far more tonal contrast in the result. This may be best seen in its purest – and most effective form some of Ian Brooks' etchings.
Finally, we come to collagraphy Janine Denby gets some fantastic, bold results using numerous plates which have been built up with materials as diverse as grout, glue, plaster and acrylic medium on to which the colours are applied. In practice many of the techniques can be combined together and prints that would be otherwise monochrome can be made colourful by using pre-painted paper or by directly applying paint to the surface.
So much for technique and skills, they are only the methods used to convey the artist's vision and imagination. Inspiration for subject matter may come from many sources. For Haworth-based Ian Brooks, his art parallels his work as a professor of Climatology at Leeds University, a career that takes him to some of the most awe-inspiring places on the planet, such as South Georgia, which is the subject of his works in this exhibition. Closer to home, and very much exploring the urban environment, Baldev Mehta's prints re-examine the architecture of Victorian Bradford. Kate Rawnsley's do much the same for Titus Salt's Saltaire and Janine Denby focusses on the city of Leeds at night.
Many of the artists are known for a range of subject matter Alison Deegan is often inspired by her archaeological training at Bradford University, but for this exhibition focuses on British bird life. One of Yellowhammer was commissioned by the British Trust for Ornithology to illustrate a guide to Britain's endangered species. June Russell, who works from South Square in Thornton has a very emotive way of depicting landscapes. Riddlesden's Mike Moor sometimes pays homage to historical engravers such as Piranesi and applies the detail one might expect of Durer on his animal studies, giving a very classical feel to his work. Perhaps the hardest to pigeon-hole is Paul Hudson's exploration of memories and monuments of the distant past. After a lifetime in art, at 73 he tells us that his work is still investigating the possibilities of the medium.
For those who, perhaps, consider printmaking to be the poor cousin of fine art are in for an awakening; hand printmaking needs not only technical skills to master the media, but opens up new levels of creativity for its practitioners.
Exhibition runs 16 Feb to 2 April 2023 (Preview Weds 15 Feb) at The Bingley Gallery
Related
1 Comments