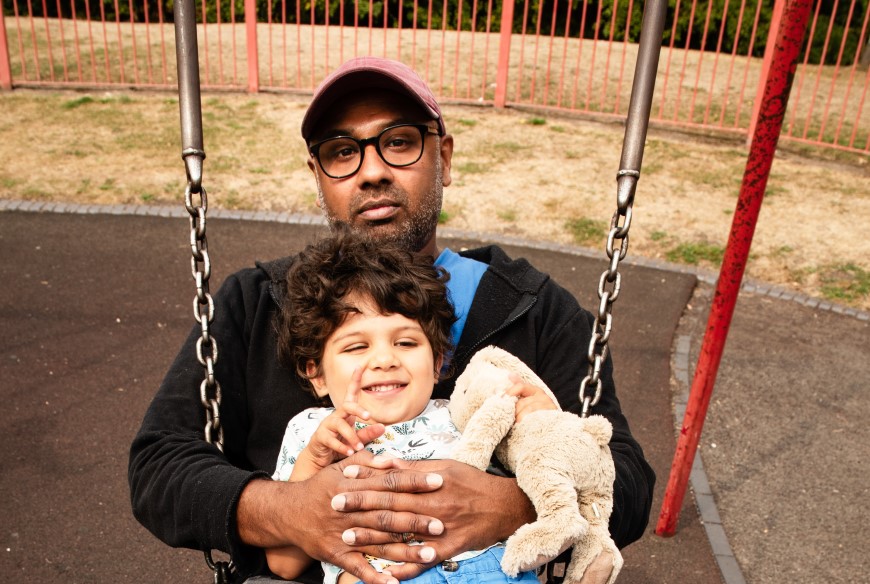 Image by Graeme Braidwood
Altered Skin bring their new show Fatherhood to Kala Sangam on Thursday 16 February and as well as an evening performance, there will be a special relaxed matinee for parents and babies to enjoy.
Being a father in the 21st century is complicated. Being the father of a young son of mixed South Indian, Turkish & Austrian heritage, even more so. Bringing together physical theatre rooted in the Indian performing artform Bharatanatyam and multilingual spoken text and sign languages, Fatherhood explores the cultural & gender expectations on fathers and what it means to be responsible for a child navigating an increasingly complex world.
The piece features three characters, each reflecting different experiences of fatherhood in their own individual performance language to create three different narratives leading to a highly dynamic and original work.
Specially for parents with babies/ toddlers, the 2pm performance will be more relaxed. There is no need to worry about your child making noise, needing to be fed, taken out to be changed or just picked up and walked around a bit.
Alex Corwin, Programme and Marketing Manager at Kala Sangam said, "We are really looking forward to welcoming Altered Skin back to Bradford with Fatherhood and we know that having a baby or small child can make going to see a show difficult so we have a special parent friendly matinee on offer. Fatherhood is a great show about what it means to be and to have a dad, and will strike a chord with anyone navigating the ever changing responsibilities and pressures of parenthood."
Shane Shambhu, Creator and performer of Fatherhood said, "When I became a dad, the focus of my life completely shifted. I had to embrace a new identity with a different outlook and priorities from my former self. I found myself reflecting on my relationship with my own dad, and how being a father and our approaches to fathering were in some respects completely different, but in others, exactly the same. As the son of an immigrant from India and Singapore, I became interested in exploring how cultural values are passed on from one generation to the next in migrant families.
As a father of a mixed heritage son in Britain, I have to navigate a new set of parameters. How do I even begin the discussion and conversation with my son around race, language and identity being a brown father in modern Britain? How can I help him to negotiate multiple belongings? I wanted to create this work to address these complex questions within the framework of transcultural narratives to explore ways I could re-imagine parenthood in the diasporic space."
---
Fatherhood is at Kala Sangam on Thursday 16 February at 2pm (relaxed matinee) and 7.30pm. Both performances are Pay What You Decide, meaning you can book your tickets in advance but do not have to pay anything until after you have seen the show. There is no set amount to pay, you decide based on how much you have enjoyed the performance and what you can afford.
Tickets can be booked online at www.kalasangam.org
Related
1 Comments