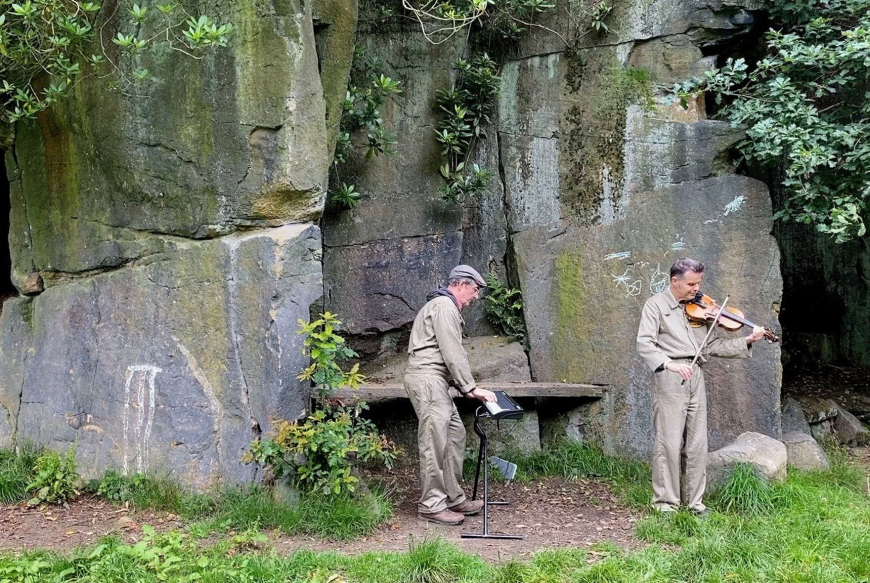 These Men will explore the stone of West Yorkshire, focussing on the human interaction with this ancient material whilst in residence at South Square Centre in Thornton. They will create a space for active investigation, creation, and conversation as they engage with the public.
The residency will be an interactive, evolving installation. Starting from their audio-visual work 'From Stone', These Men continue their investigation of the stone fabric of West Yorkshire by turning South Square Centre's gallery into an arts lab. Visitors to the gallery are encouraged to participate in informal workshops and hands-on open activities which will be documented online and in-gallery, leaving layers of creativity to build and develop in this collaborative environment of the course of the residency.
The South Square Centre was built in the 19th century from Yorkshire stone created 300 million years ago. Stone gives us an entry point to time on a massive scale and also to stories of change, community, and resilience as humans have come to manipulate and make from this ancient material.
These Men are artist, filmmaker and musician Phil Moody and violinist and mixed media artist Ian Tothill. They will draw on their multi-disciplinary backgrounds to approach the theme of stone from multiple perspectives with a range of outcomes.
Whilst These Men are in residence, the public will be welcome to explore their installation at South Square Centre and on most Wednesdays and Sundays Ian and Phill will be on site to engage with the audiences.
This period of inquiry will culminate in a residency finale featuring elements of their exploration, creation, and the contributions of South Square Centre visitors on 24th February 2023.
Ian Tothill and Phil Moody, These Men, said: "This is an inquiry and an exploration. We will look at substance and surface, at geology and history, at buildings, walls and paths. South Square is wonderfully placed for this. Drop in to look, to talk, to make and to create."
Flo Hoy, Director of South Square Centre said: "These Men have developed a unique approach to thinking about the stone that surrounds us, finding the human connections that animates this still material found all over our town of Thornton. We're really excited for them to be in residence at South Square Centre and to engage our community and audiences in their investigations."
Related
0 Comments