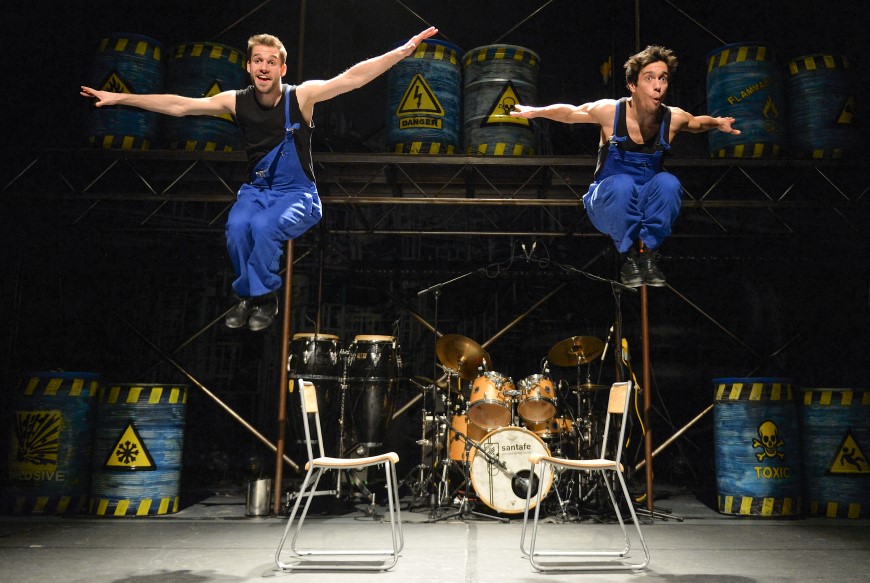 Image by Phillipe Fretault
Amazing dance shows are coming to St George's Hall this season.
Spirit of the Dance - St George's Hall, Bradford - Wednesday 1 February, 7.30pm The International smash hit Spirit of the Dance celebrates 21 fabulous years as one of the most successful dance shows ever and now their new spine-tingling anniversary show is touring the world. This spectacular show takes you round the globe with the spellbinding world of dance as Scottish, Flamenco, Latin, Salsa, Street Dance, Hip Hop, Techno, Can Can and American Tap are all set to the same dynamic rhythms as the heart pounding thunder of Irish dance. Tickets £31
Tap Factory - St George's Hall, Bradford - Tuesday 21 February, 7.30pm Take 12 oil barrels, one stepladder, four bins and a bucket. Blend with the breath-taking tap dancing of eight male performers. The result is Tap Factory, a potent cocktail of dance, acrobatics, music and comedy that is a must-see show for all the family. After more than 500 shows on the five continents, Tap Factory is thrilled to come back to the UK with this 10th Anniversary Tour! Tickets £28
Giovanni Pernice – Made in Italy - St George's Hall, Bradford - Monday 3 April, 7.30pm Strictly Come Dancing 2021 champion and dance heart-throb Giovanni Pernice invites you to join him on a journey to his homeland for his brand new 2023 production Made in Italy. This Italian themed show features an incredible sound track, stunning choreography and beautiful costumes. But be warned… in Italy, it can get HOT HOT HOT!!!! Age recommendation 8+. Tickets £50 - £36, VIP Meet & Greet £87
Johannes Radebe – Freedom Unleashed - St George's Hall, Bradford - Thursday 20 April, 7.30pm Following his sell-out debut tour in 2022, TV dancing sensation and international champion Johannes Radebe is hosting a party like no other in this electrifying brand-new production for 2023. Freedom Unleashed sees the irresistible Johannes joined by a diverse, world-class cast of talented dancers and singers in this melting pot of South African rhythms and huge party anthems - with a touch of ballroom magic thrown in to make this a pulsating and jubilant celebration of culture, passion and freedom. Tickets £45 - £32, VIP Meet & Greet £95
---
Call the Box Office on 01274 432000 or visit bradford-theatres.co.uk All prices shown include booking fees but are subject to postage charge if applicable. Bradford Theatres' usual terms and conditions apply.
Related
1 Comments