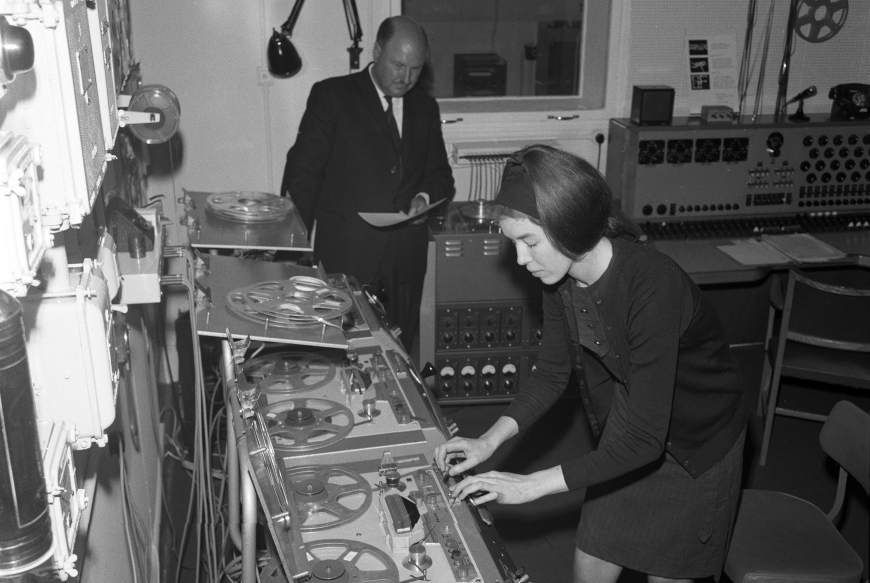 Image Courtesy of the BBC Photo Archive
There's only three weeks left to explore the last 100 years of broadcasting at the free exhibition, Switched On, at the National Science and Media Museum, before it closes on 11 January.
Switched On takes visitors on a journey from the first radio microphones to the invention of colour television and the rise of on-demand video and streaming services. The exhibition examines the industry through 14 pioneers linked with broadcasting innovations who have forced the industry to adapt, improve and make room for more voices. Visitors can learn about influential trailblazers like David Attenborough who led the introduction of colour on BBC2 or Delia Derbyshire, who created the Doctor Who theme tune in 1963, marking the first television tune made purely from electronic sound, among many others.
For the final time, visitors can experience first-hand the last century of broadcasting innovations through six interactives including a live camera feed that shows the evolution of television displays over time.
To mark the closing of the exhibition, there will be a special screening presented by the Yorkshire Film Archive to look back at the history of television in Bradford and the North. Screening at Pictureville Cinema on 19 January, TV Comes North: Bradford brings together archive footage of first broadcasts, award-winning documentaries and regional news features to bring the small screen to the big screen.
Throughout the festive period, Pictureville Cinema will be showing a season of festive family favourites from The Polar Express in IMAX 3D to Home Alone 2 for just £3 on Christmas Eve. The museum's permanent galleries will also be open, including the interactive Wonderlab where visitors can explore light and sound, and the Kodak Gallery which showcases the history of photography. Visitors can also pre-book a slot for the Games Lounge for £2 per person in addition to a free general museum admission ticket.
Switched On is part of Broadcast 100, a bumper year of exhibitions, special displays and digital content across the Science Museum Group that has celebrated the 100th anniversary of the BBC and the 40th anniversary of Channel 4.
---
Free tickets for Switched On are available to book until 11 January via the National Science and Media Museum website.
The museum is open daily from 10.00-17.00, except for 24-26 December. Pictureville Cinema will be open on 24 December.
Related
3 Comments