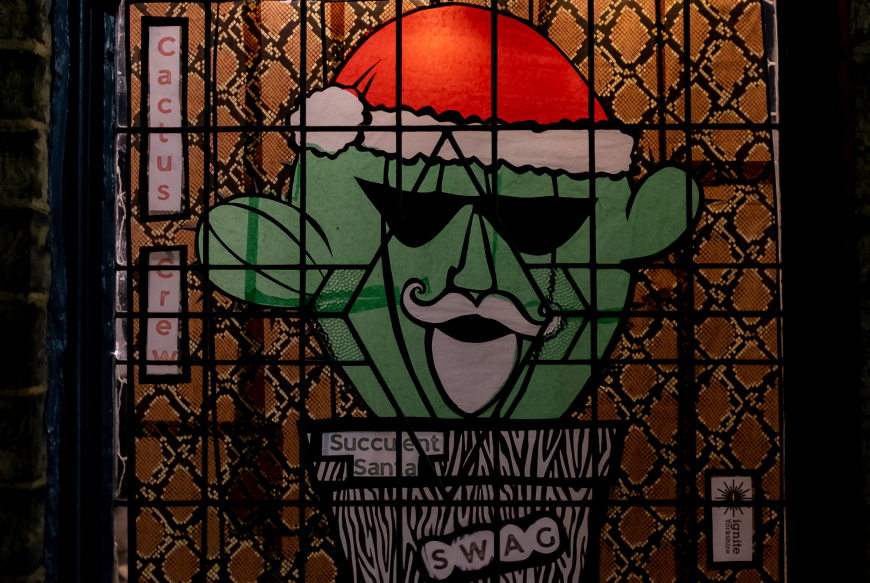 Image by Philip Lickley
Residents and businesses in Saltaire are getting creative as they prepare to reveal 56 windows throughout December in one of Saltaire's favourite festive events – Saltaire Living Advent Calendar. This creative community event has become a mainstay in the UNESCO World Heritage Site Village, as the illuminated trail unfolds in the run-up to Christmas.
Now in its 17th year, the Saltaire Living Advent Calendar is a much-loved highlight of the festive season for residents of Saltaire and Bradford, and also attracts visitors from further afield and followers online from all over the world. With its fun, witty and thoughtful creations in the windows of Saltaire's Grade II listed cottages, as well as schools, shops, businesses and churches, this magical event sees windows light daily up throughout the month. There is a strong community focus; anyone in the village can take part, and participants include new residents, children, seasoned window creators, professional artists and community groups.
This year, 15 windows will be illuminated on 1st December, with further windows lighting up each evening until Christmas eve. Window designs remain a surprise – even for event organisers, Saltaire Inspired - until 4pm on their light-up date, and typically include festive scenes, quirky characters and tales influenced by Saltaire, culture, and the window creator's own lives and experiences – often with a good sprinkling of festive humour!
For the fourth year, Rydals Museum (formerly a Mill) in Sweden are creating a window for the event, and Shipley-based Cactus Crew (a Youth Enterprise group run by Sponge Tree as part of Ignite Yorkshire) have created a window on Saltaire's behalf which is currently in transit to Sweden, to feature in Rydal's event.
A map showing the locations of the windows can be found at saltaireinspired.org.uk and trail leaflets can be picked up at locations throughout Saltaire. Windows are illuminated from 4pm - 10.30pm each evening, until the 1st of January. For those unable to visit in person, window designs are revealed each evening at saltaireinspired.org.uk and on Facebook (@saltaireadventcalendar), Twitter (@saltaireart) and Instagram (@saltaireinspired).
This event is generously supported by sponsors Edward St Bakery and Bingley Gallery. Further funding is raised by the sale of packs of Christmas cards, featuring a selection of the previous year's windows, which are available to buy from saltaireinspired.org.uk and at outlets in the village.
The Saltaire Living Advent Calendar is organised under the umbrella of Saltaire Inspired, an ambitious arts charity, creating quality contemporary arts events in unique settings. Saltaire Inspired delivers the annual Saltaire Arts Trail and regular Saltaire Makers Fairs as well as the Saltaire Living Advent Calendar in the World Heritage village of Saltaire, and also works with partner organisations to help Saltaire become internationally recognised as a centre for the visual arts.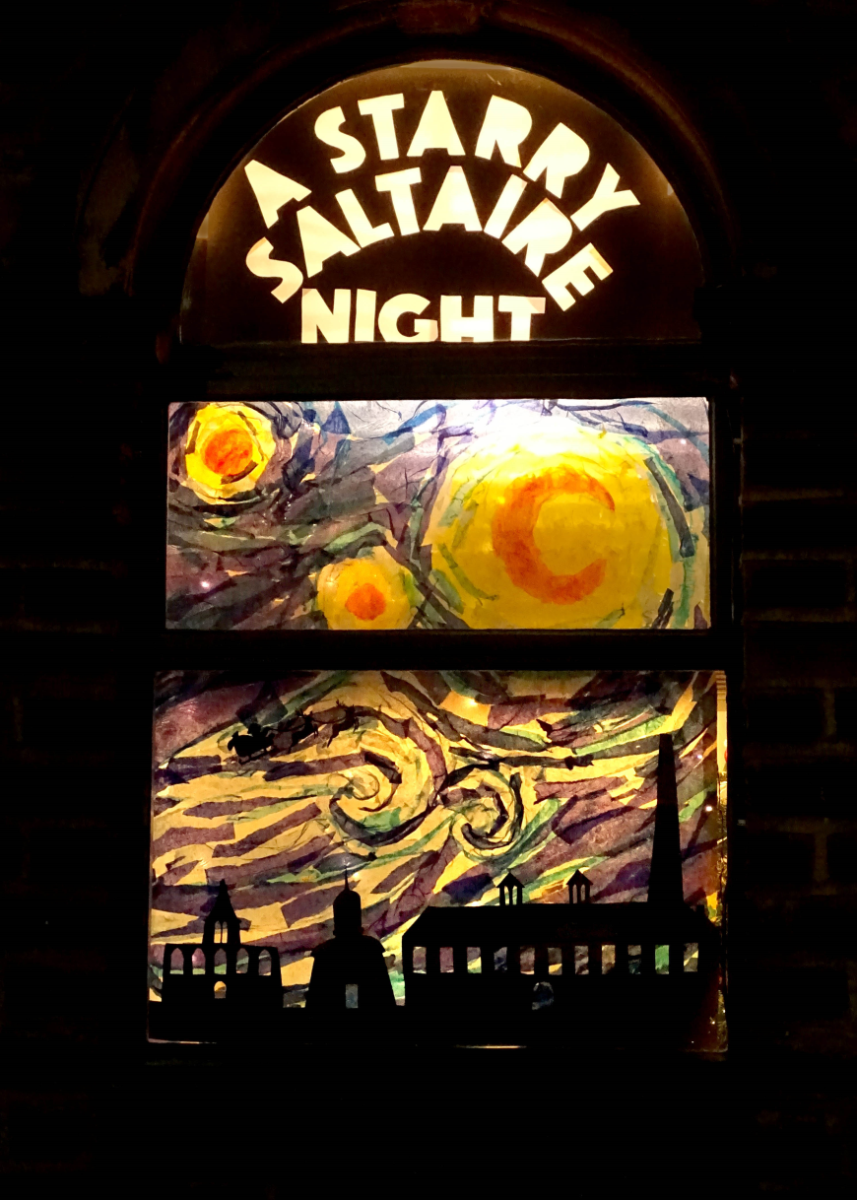 Image by David Starley
Related
2 Comments