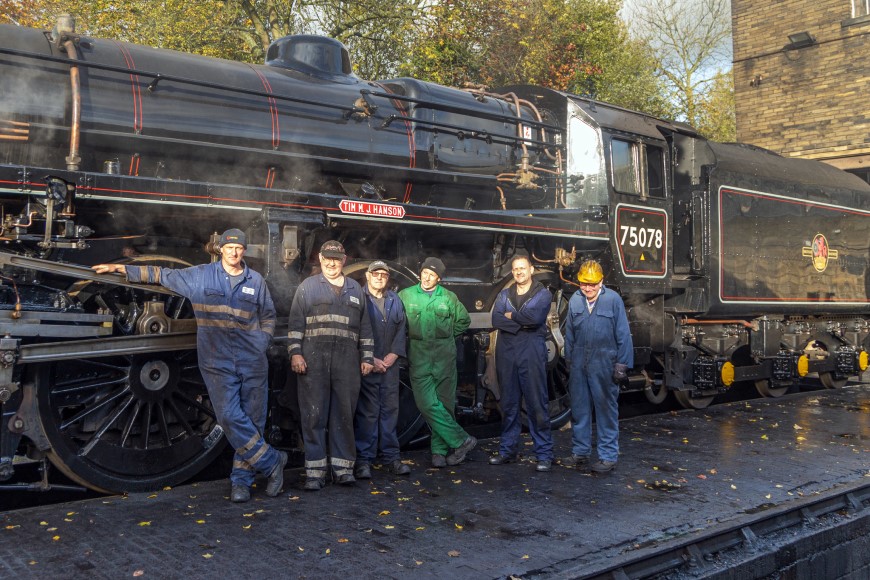 British Railways Standard Class 4 75078 returned to traffic on the Keighley and Worth Valley Railway on Friday 28th October 2022. The locomotive had been withdrawn for an extensive boiler overhaul in 2020.
Full time staff and volunteers of the Locomotive Department took an active role in the overhaul, and the KWVR wishes to recognise, and record, the contribution of all who worked on 75078 during the 2year period. The boiler was removed from the frames in April 2021. The main focus of the boiler work included firebox lap copper welding, replacement of super heater flues and elements, new small tubes, regulator and super heater header inspections and refurbishment. The locomotive frames and tender had detailed inspections and any required works were undertaken. The boiler was placed back in the frames on 24th June 2022.
The locomotive is now expected to run for the next ten years with annual inspections and routine maintenance only.
The locomotive's last overhaul was completed in 2015, and this present overhaul was brought forward in time as part of the strategic planning to stagger overhauls and thus ensure locomotive availability. This overhaul was financed with funds from the KWVR Trust.
The locomotive worked on round trip double headed with Taff Vale Tank 85, and then a further trip single handed on the Friday, these were timetabled passenger trains. Formal entry into traffic was on the first train of the day on Saturday 39th October 2022.
75078 was saved from Woodham Brothers Scrapyard, Barry in 1972 by The Standard Four Locomotive Preservation Society, and arrived at KWVR in June of that year. The initial restoration took around 5 years, and the locomotive entered service in February 1977. Ever since, the locomotive has proven popular with crews, and is an ideal engine for the KWVR.
Related
0 Comments