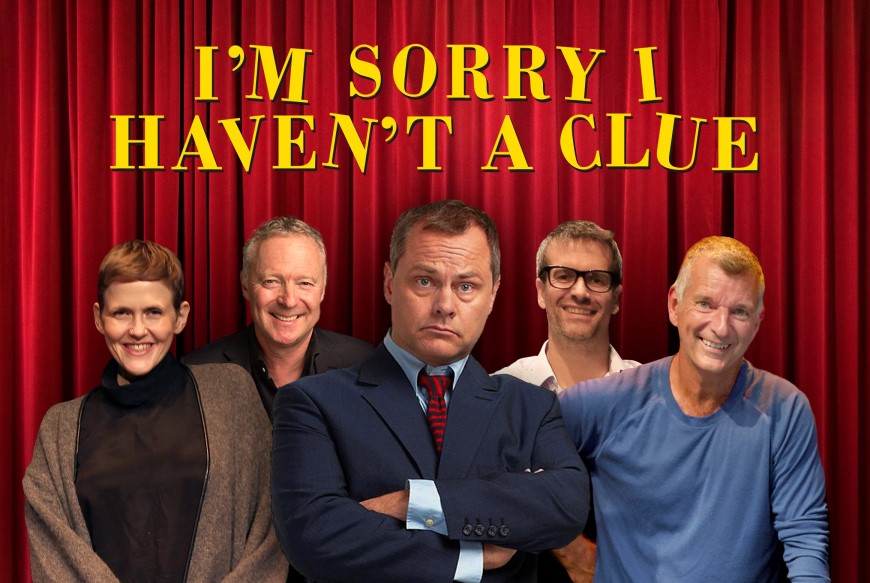 The 'I'm Sorry I Haven't A Clue' Stage Show will be coming to St George's Hall, Bradford on Monday 21 November at 7.30pm, starring Tony Hawks, Pippa Evans, Marcus Brigstocke, Rory Bremner and Colin Sell at the piano. In the chair will be the one and only Jack Dee.
Here host Jack Dee answers a few questions:
Now that you have youngsters as guests on the show (some barely out of their 50s), do you find this has given the programme a new lease of life? The show goes from strength to strength and you can only imagine my delight to finally be working with people who know that Oasis isn't a soft drink and that Lady Gaga isn't an aristocrat in a dementia home.
Are you surprised that Colin Sell has become something of a style icon? I admit I was startled to see Colin modelling his distinctive selection of timeless outfits on opening my copy of Practical Gardening.
Has the energy crisis had an impact on the current tour? We're very fortunate in that energy has never been a feature of the show.
You'll be bringing the show to St George's Hall. Is it true that this is everyone's favourite venue? Absolutely. And it always has been for as long as I can remember filling in this questionnaire.
Has anyone ever auditioned for the show and been turned down? We actually don't audition. Normally we approach the agent and ask for the artist. If the answer is "Unlikely mate. She's currently making a film in L.A." then we take that as a no. Likewise the more common "Over my dead body, Sunshine". However, if the agent replies with "Who? Oh God, him! Help yourself" then we know we've found a possible new panellist.
---
Monday 21 November 2022, 7.30pm St George's Hall,
Bradford Tickets £31
Call the Box Office on 01274 432000 or visit bradford-theatres.co.uk
All prices shown include booking fees but are subject to postage charge if applicable. Bradford Theatres' usual terms and conditions apply.
Related
0 Comments