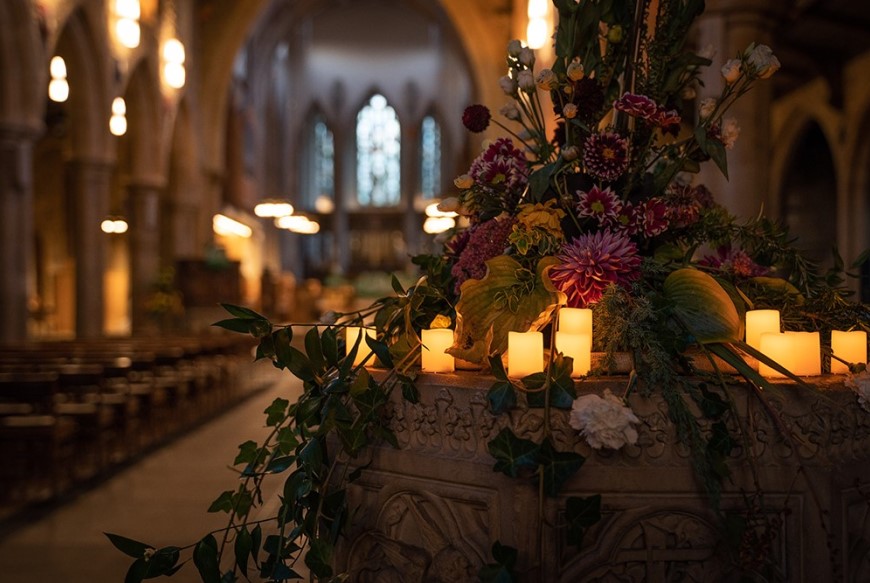 There will be plenty of things to take part in on Saturday 15th October as Bradford Cathedral opens its doors for two incredible events.
On the afternoon, Bradford Cathedral will be holding its slot in the 'Widescreen in the Community' strand of the annual 'Widescreen Weekend' held by the National Science & Media Museum.
To fit in with their theme of 'Victorians and the Age of Industry', the Aardman classic 'The Pirates! In an Adventure With Scientists' will be shown at 2:30pm. The film features Queen Victoria, Charles Darwin and a host of other famous faces. Tickets are just £3 for adults and £1 for children (plus booking fees), and drinks and sweets will be available from the refreshment counter.
There is also a free tour before and after the film, where our Director of Education and Visitors Maggie Myers will be taking you around the Cathedral to point out some of amazing inventors and explorers remembered in the memorials and monuments, alongside the prominent stained glass featuring women, to tie in with the festival's second theme of 'Rebels and Dames' – all about female characters who broke the mould.
Maggie Myers, Director of Education and Visitors, says:
"Here at Bradford Cathedral, we are experienced at giving family-friendly tours and are enthusiastic to reveal the beautiful treasures, historic features and interesting stories of this iconic building and some of the people connected with it. Why not join us for an afternoon of fun, film and fascination. We'd love to see you!"
Then, as the sun sets, Bradford Cathedral will open once again from 7pm to mark 'Cathedrals at Night', a national event that has been held at many cathedrals across the country and now comes to Bradford.
The evening begins with a gentle thirty-minute organ recital, before you will have the chance to do a self-tour around Bradford Cathedral and soak up the atmosphere, to discover more about the building, with key areas lit up with lights and candles.
There will be an opportunity to take part in calming, candle-lit activities in various places in the Cathedral, including Celtic colouring, creating illuminated letters or designing your own stained glass window.
The team will be on hand to tell you more about the history of the Cathedral; and you can also explore the current exhibition – Peter Marlow – The English Cathedral – which showcases 42 photos from cathedrals across the country, with the chance to take your own photos.
There will also be a prayerful space for quiet reflection and contemplation, and the chance to light a candle or leave a prayer.
The night will be rounded off from 9pm with a performance from the Bradford Cathedral Choir before closing with lazy compline.
Those coming are invited to bring their own cushions, pillows or bean bags to sit around the Cathedral, any time during the three-hour event. There will also be refreshments available.
Alexander Berry, Director of Music, says:
"The evening will begin with a half-hour of atmospheric organ music, played by our Sub-Organist, Graham Thorpe. Towards the end of the evening, an octet of singers will sing a short programme of uplifting choral music, before we finish the evening with the Office of Compline"
Maggie Myers, Director of Education and Visitors, says:
"This is a unique opportunity to experience Bradford Cathedral in a different 'light'. You can explore the Cathedral by candlelight, enjoy the sounds, scents and sights on offer, and sit awhile or lie down if you wish, or take time to reflect or pray."
The Very Revd Andy Bowerman, Dean of Bradford, says:
"I have personally enjoyed the change of atmosphere that can be experienced in the Cathedral at night. I am often found within her walls quietly praying. She does truly change in nature.
"We pray that this evening will give people a profound and relaxing experience. One where at the heart of the City, they can discover space to be, and space to be reminded that they are a deeply spiritual person in their own right"
To book your tickets for the film screening or tours on the Widescreen Weekend please visit pirates-bradford.eventbrite.co.uk, and to book your free places at Cathedrals at Night go to cathedrals-at-night.eventbrite.co.uk. You can also find both on the 'what's on' page of the Bradford Cathedral website, and view a short promotional video at https://youtu.be/AznLVcVA0xQ
Related
3 Comments