Did you know that the Bradford District has a whole host of thriving breweries producing some of the best craft beers and ales in the country? So we've put together a guide of the top places to visit in the area for a truly great locally brewed pint (or two)!
The Goose Eye Brewery starting out in the small village of Goose Eye in Keighley, is now based at Castlefields Industrial Estate, Bingley. Brewing a variety of award-winning beers as well as the amusing 'Wonky Donkey' bottled ale for more than 20 years. Their onsite taproom, which opened in 2019, is a cosy spot to enjoy their beers and is conveniently located near the Crossflatts train station.
The Haworth Steam Brewery opened in Brontë Country in 2010, producing not only beer but also gin and other spirits, as well as their own mixers. Today they offer over a dozen beers and multiple unique gins (English toffee flavour anyone?). The Haworth micro-brewery also serves a full lunch and dinner menu, bakes its own bread, and has its own smokehouse, making it a perfect place to unwind after exploring the sights of Haworth.
Since 2005, the Saltaire Brewery has brewed over 5 million pints of beer for thirsty folks. They brew a wide range of award-winning beers which can be found online and at many local pubs. They also have a taproom that is conveniently located canal side and is only a 20-minute walk from Salt's Mill towards Shipley, making it a perfect excuse for a leisurely stroll taking in the sights!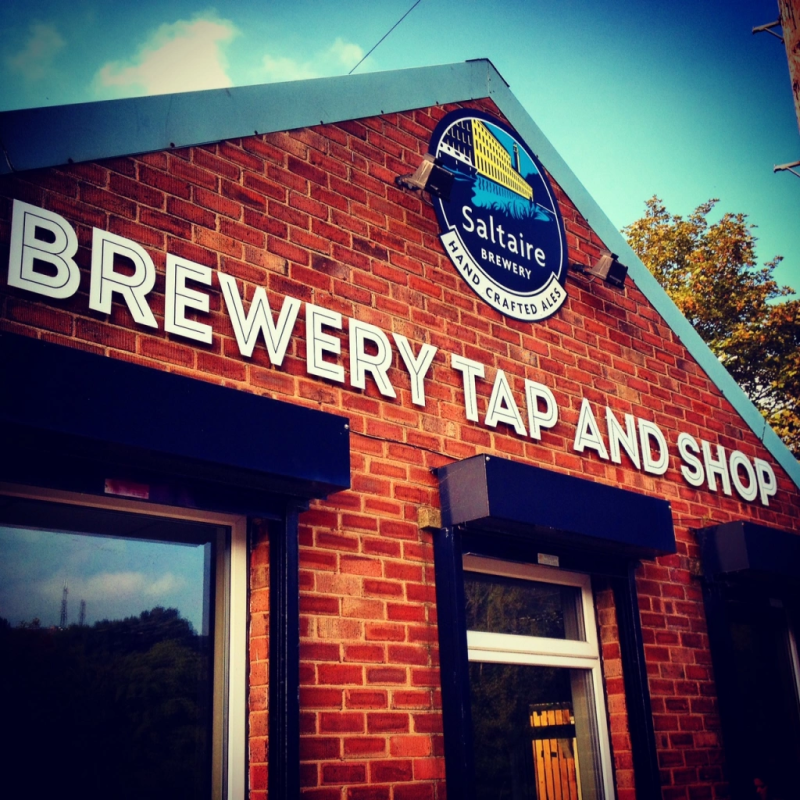 The SALT Beer Factory is a microbrewery in Saltaire that has been brewing since 2018. It is housed in a Grade II listed building that was once a tram depot. They're proud of the UNESCO site's history, which is reflected in the company's name and the names of its beers, which are all inspired by textiles. On-site, they offer a taproom, a full bar, and a restaurant that serves homemade pies and wood-fired pizza.
Wharfedale Brewery is the oldest of the breweries featured, having been in operation for over 300 years! The brewery is based in Ilkley, where it shares a Grade II listed building with the Flying Duck pub, which serves the brewery's five core beers as well as special collaborations. This is a great partnership, and a visit to Ilkley should include a meal at the duck and a taste of the wonderful local brews.
Timothy Taylor's Brewery, which has been in operation since the 1850s, deserves special note. Their range of beers has proven hugely successful and the company now owns almost 20 pubs and inns throughout Yorkshire all carefully supplied with Timothy Taylor's fantastic locally produced beer. There's nothing like a pint in one of the brewery's own pubs, so visit The Royal Oak, The Lord Rodney, and The Boltmaker's Arms in Keighley, The Brown Cow in Bingley, or The Fleece Inn in Haworth.
Most of the breweries have online outlets, allowing you to get a fantastic taste of the Bradford District from the comfort of your own home while also supporting local businesses.
Please drink responsibly for further health information visit – http://www.drinkaware.co.uk
Related
5 Comments