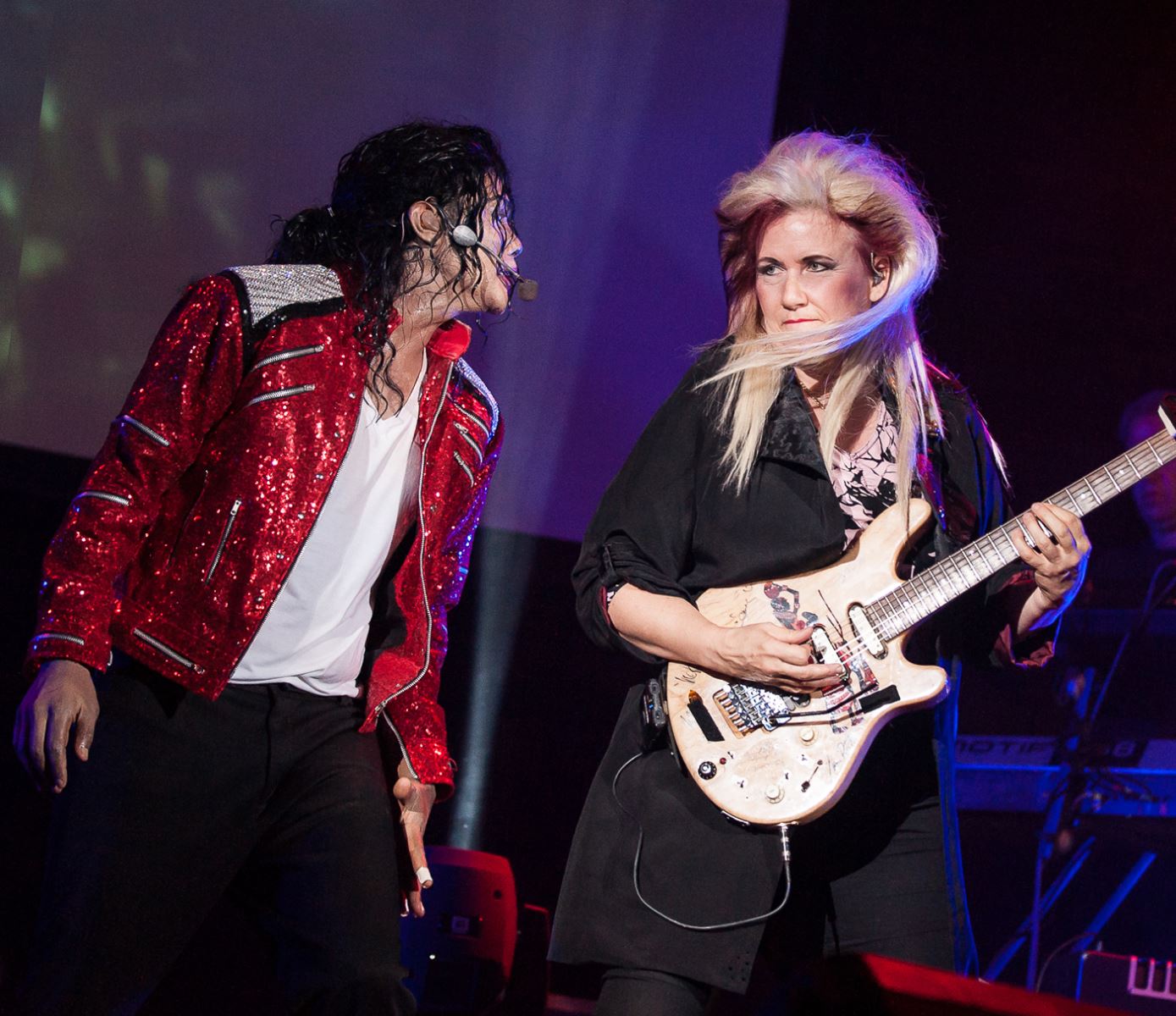 Audiences will be able to moonwalk the night away when Michael Jackson tribute artist Navi makes a welcome return to St George's Hall, Bradford with King Of Pop – The Legend Continues. Navi will be joined by Michael Jackson's iconic guitarist – Jennifer Batten!
Navi was hired by Michael Jackson himself as the star's official body double. He is widely regarded as one of the most successful Michael Jackson tribute artists on the planet with an incredible list of achievements chalked up in a career spanning three decades.
As well as working for Michael as his official body double, the star booked Navi to perform at two of his lavish birthday parties in New York and Los Angeles, and went on to give him a standing ovation.
Talking about his relationship with the star, Navi said: "To meet Michael was one thing, but to perform in front of the greatest entertainer of all time and to perform his songs was no easy feat and extremely nerve-wracking."
Jennifer Batten performed with Michael Jackson across the globe on all three of his record-breaking world tours – the Bad World Tour (1987-89), Dangerous World Tour (1992-93) and History World Tour (1996-97). She also featured heavily in the iconic Super Bowl half-time show (USA) - regarded by many as Jackson's most spectacular performance.
She was initially hand-picked to play on the Bad Tour, but Michael Jackson was so impressed that she joined him on the road for the next 10 years, playing on his Dangerous and History tours to more than 4.5 million fans worldwide.
Now, Jennifer has teamed up with Navi for an unforgettable experience for Jackson fans across the UK.
Talking about the tour, Jennifer said "I'm really looking forward to playing Michael Jackson's music again with a top notch tribute in the UK. I remember the crowds in UK were mad crazy for Michael. Not too many acts could fill Wembley stadium day after day, and year after year!"
With an incredible live band and dancers, the production features all of Jackson's mega-hits in a fast-paced, two-hour show that will have audiences dancing in the aisles and singing along all night to the likes of Thriller, Billie Jean and Smooth Criminal.
---
St George's Hall, Bradford
Saturday 22 October 2022, 7.30pm
Tickets £27- £23
Call the Box Office on 01274 432000 or visit bradford-theatres.co.uk
All prices shown include booking fees but are subject to postage charge if applicable. Bradford Theatres' usual terms and conditions apply.
Related
1 Comments