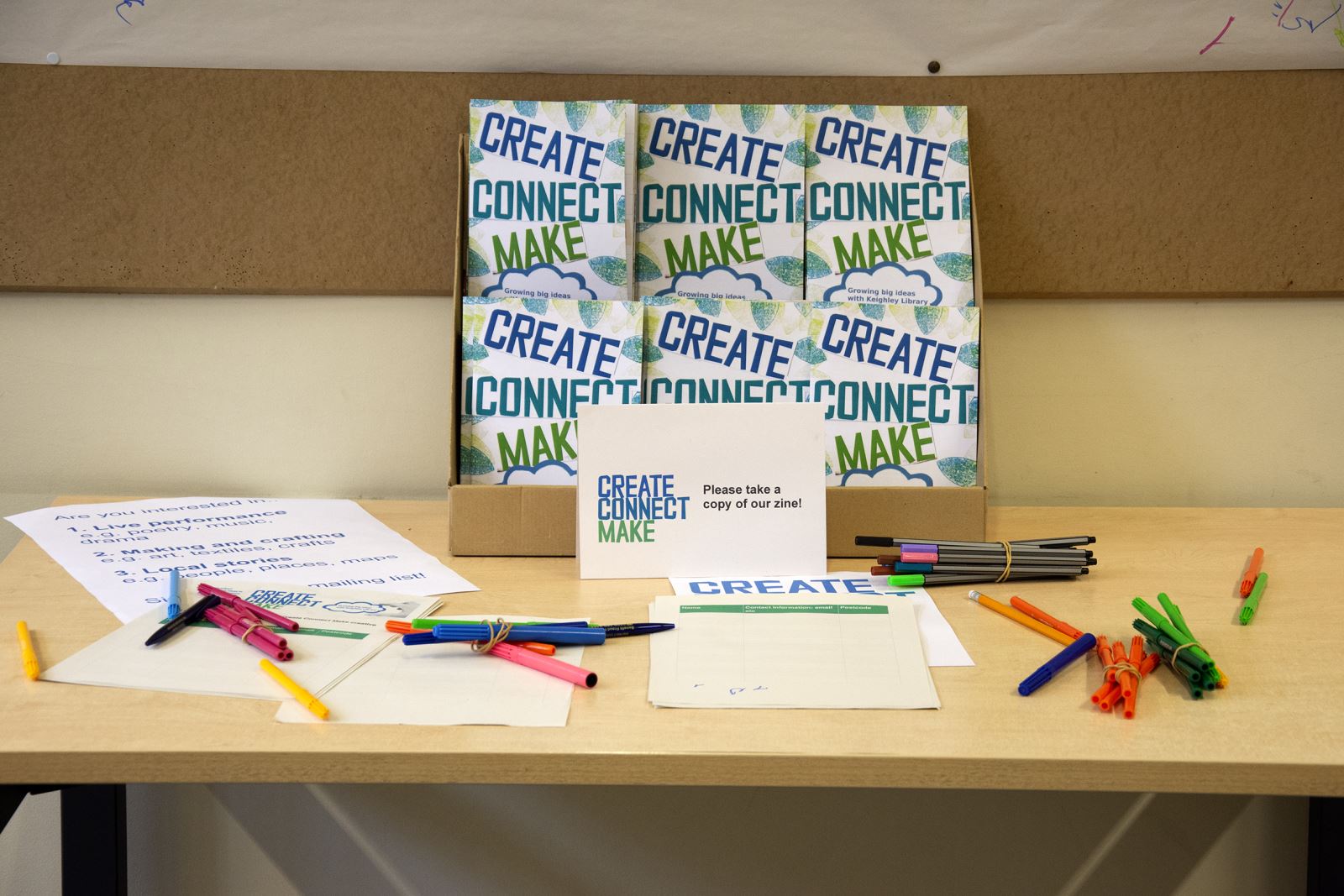 The countdown is on for a creative, community takeover day that will transform Keighley Library.
Everybody is welcome at this big creative get-together as Keighley Library celebrates what makes our town special. This event is a culmination of a year of Create Connect Make, a co-created community programme with Keighley Library, local artists and communities in Keighley to develop creative ideas with local people.
The project has been led by artist Jean McEwan who has been working with Library staff and local people to grow and test activities from calligraphy to textile art to poetry performance.
This festival of Keighley creativity is an opportunity for the public to take part in a programme of crafting activities, music and dancing, spoken word and workshops. They can discover unexpected stories in our library archives, go on a guided walk revealing Keighley's heritage, have a go at making art with books, have your say in our open mic slot, and grab a tasty bite to eat as we showcase the creativity across our community.
The event is part of the Keighley Arts and Film Festival programme and takes place during Libraries Week, an annual showcase and celebration of the best that libraries have to offer.
Jean McEwan said, 'Create Connect Make Fest is our opportunity to showcase the amazing creativity of people in Keighley in a building that has been at the centre of our community for over a century. Throughout this programme we've had some incredible ideas from people taking part and we want to turn that spark into a continuing beacon of creativity.'
Dionne Hood, Bradford Libraries Development Officer, also a practising artist, said, 'This project is so important for us as a library service as we move forward with our plans for the future. Keighley Library is one of the pilot libraries for our new library service model which sees us tailoring each library to the needs of the communities they serve.We have been working closely with the communities of Keighley to find out what they really want both creatively and culturally to be happening in their library. We have invited people into the library who have never been before and have given us the opportunity to open our doors and let people know that the library is a safe, welcoming space for everyone. The library belongs to the people of Keighley and we have really enjoyed working with some of these people to create, devise and implement a whole host of activities and events.'
Create Connect Make Fest will be a one day extravaganza of creativity and everyone is invited. The event will be free and food will be available. There will be activities for people of all ages and a programme will be announced in the coming weeks.
The event is being supported by co-produced with The Brick Box. This project has been supported by a coalition of brilliant funders including The Leap, Arts Council England, Bradford Libraries, Bradford Metropolitan District Council, Bradford 2025, Bradford For Everyone, Born in Bradford and Emerald Publishing.
For more event and accessibility information: createconnectmake.co.uk
Date: 8 October 2022
10am-4pm
Keighley Library
Free to attend
Related
0 Comments